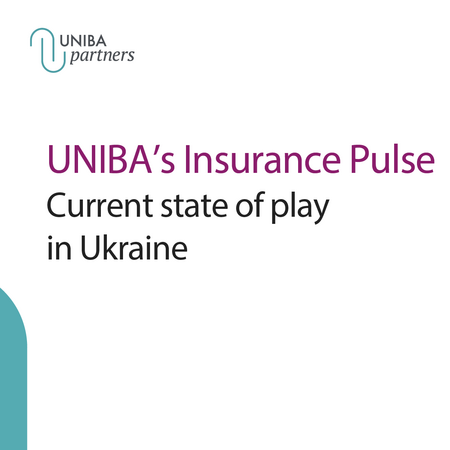 In the dynamic world of insurance, where risks and regulations constantly evolve, staying ahead requires not only expertise but also a collaborative approach. Welcome to the UNIBA Partners' Insurance Pulse, a space where our Partners share their insights on the latest hot topics. In this month's edition, our Partner Vitaliy Lebedovskiy from Britmark (Ukraine), shares his insights on the current insurance landscape in Ukraine and what his expectations are.
When speaking about insurance in Ukraine nowadays, most people have two key questions:
a) What can you actually cover in a country that's a war zone?
b) Is political violence at all insurable?
Covering Property Is Possible But Limits Apply
Coverage does exist but coverage for large property values is problematic. In order to be insurable property must be located more than 50-60km from the frontline.
Only a few major international carriers continue to write business in Ukraine, key amongst them are UNIQA, Vienna Insurance Group and Fairfax Group. Allianz, while still present, only has very limited reinsurance capacity (+/- equivalent of EUR 7,5 mio).
Reinsurers' appetite is strictly limited to their treaty reinsurance capacity. The problem for property insurance is obvious: an average reinsurance capacity for Ukrainian insurers is around EUR 10 mio, and even the largest Ukrainian insurance companies only have a capacity of roughly EUR 25-30 mio. This rapidly becomes insufficient for any corporate property exceeding 100.000 sq.m. in gross floor area.
Insurers are no longer able to obtain an endorsement for higher limits from their treaty reinsurers – they will not commit beyond the amounts pledged in the treaty reinsurance contract. Nor is facultative reinsurance a solution: reinsurers in Europe, USA or Japan are not willing to accept facultative reinsurance for Ukrainian risks. Most local insurers attempt to arrange local reinsurances with fellow insurance companies in Ukraine adding their treaty reinsurance capacity to the pool.
Political Violence: Some Cover Available
Insurance companies typically do not underwrite such risks in times of war. However, in July 2023 ARX (a daughter company of the Canadian Fairfax Group) developed a scheme to cover damage caused by rockets and drones. The coverage limit is fixed at a maximum of EUR 250,000, normal deductibles EUR 2,500 and at average premiums quoted in EUR 4,000-10,000 per year. Premiums depend greatly on location and size of the insured property, going as low as EUR 2,500 or as high as EUR 25,000k). Currently ARX covers unmovable property only and can not provide coverage for goods in stock or vehicles. This cover is available only for locations which are situated at least 100 km from the frontline.
We have seen ARX refuse coverage for property in cities that are under constant bombardment, like the port cities of Odessa, Izmail and Kilia. Also, certain fields of businesses (for example agriculture and energy) are seen as more risky than others. It is encouraging to see that increased demand for cover leads to more supply. Should the trailblazers be successful, hopefully more insurance companies will follow.
Being an Insurance Broker in Ukraine
Over the past 12 month insurance brokers in Ukraine have seen an increased demand for grain cargo insurances. Many agricultural companies that used to employ carriers of 30-50 thousand tons are now forced to ship using small vessels with capacity of 3-5 thousand tons.
Before the war those risk were usually covered by a single policy typically issued by a global insurance broker. Now they result in up to ten tricky insurances that often get distributed around several brokers. The quality of risk has also deteriorated due to the age of these smaller vessels, leading to higher premiums. In practice: a vessel of 40-50 years is normal, 70 years is old and my personal record is a 92 year old barge!
There are no official financial figures for brokers in Ukraine but it would seem that global brokers lost a significant share of the direct Ukrainian market while local brokers gained. Global brokers, however, are seeing an increased demand for reinsurance programs.
Throughout 2022 insurance companies were forbidden to pay reinsurance premiums to foreign reinsurers, so the renewal of treaty programs for 2023 was a very difficult process. It was a highly demanding professional task and the successful renewal of all major treaty programs turned out to be paramount to keep the market stable.
Looking ahead
The current market situation is no longer as dire as it was back in 2022. While local insurance companies and brokers are facing many unique challenges most of us are optimistic about the long-term future and are aiming to evolve in order to meet these challenges.
Should you wish to learn more, please contact Vitaliy at vlebedovskiy@brit-mark.com.