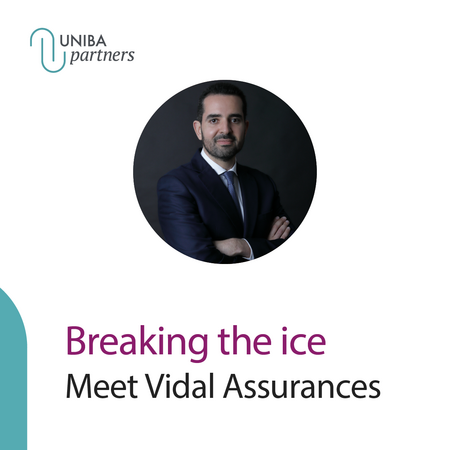 The UNIBA Partners' network is constantly evolving; new Partners join, IDMs and Senior Contacts change. Although we have the chance to see each other face-to-face, most of the time we are meeting behind our laptops. And in this online environment you might have missed a new Partner joining or a contact changing, right? Through this new article-series we will make sure that that doesn't happen anymore! In 'Breaking the ice' we will introduce new Partners, their specialisations, and, perhaps even more importantly, the people behind it; what makes them tick? why did they join? what do they like? Because what is UNIBA Partners if not a business network of friends?
This month we will be introducing our new Moroccan Partner Vidal Assurances and its COO Younes Chraibi.
For those who didn't have the chance to meet you just yet, can you please introduce yourself and your company?
Vidal Assurances, a Moroccan insurance broker, was founded by Mr. Vidal in 1946. It's currently a family company, headed by my mother and uncle, after Atlas Capita acquired it in 2009. It's the only broker in Morocco that is backed by private investment banking. Thanks to this synergy we can offer a wide array of financial products and services to our clients. Our clients range from public bodies and large corporates to (high-net worth) individuals.
As for myself, I'm the COO of the company. I worked and studied in France, mainly in the investment banking industry in Paris. I moved back to Morocco 1.5 years ago to work for Vidal. In my spare time I like to cook, mainly healthy dishes, and practice yoga.
Let's dive back into the business side of things. Why is "international" important to your company?
As of late, we have reached a size where we need to address the needs of clients with international exposure. Also, we live in a world where we need to collaborate with international brokers on best practices; what's happening on the technical side, what are the latest IT development? Only through working on an international level you get to see what's out there.
How do you think UNIBA can support you?
I think there are a few aspects to it, starting with the conferences. During the London IMD meeting I was able to have many discussions with Partners on a wide array of topics, from the actual business side to HR and IT. This already helped us immensely. We also had the chance to attend the workshops and presentations, like cyber risk and risk management. These hot topics are really interesting to us.
Secondly, the monthly regional calls. Most of us in Africa share the same regional issues, so it's very useful to have a platform to share and collaborate with other regional Partners. Lastly, a perhaps obvious one, but having a network of brokers worldwide is very interesting for our clients.
And where do you see your company contributing most to the next year?
We can provide support in countries where Moroccan insurance companies are based, like the French-speaking African countries. Also, we have high net-worth individuals with assets abroad, meaning we will work on these assets to provide business to our Partners. Finally, in our business you need good IT services, with minimum investment. Unfortunately, this can be quite expensive in countries like Morocco. However, the past years we've managed to find a solution that works for us and hopefully we can share this with the other Partners soon.
Let's move back to the personal side of things again. Is there any book that inspired you, be it personal or professional?
Philippe Bloch – Bienheureux les fêlés. It's a book about entrepreneurship, from the founder of Colombus Café. It's very interesting because he doesn't only dive into the successes, but really tries to show the hardness and the difficult moments that were part of his journey.
On a final note, if you could have lunch with anyone in the world, who would it be and why?
Coming from an IT-background, I can only say Elon Musk. He is very charismatic and what he did with PayPal, SpaceX and Tesla, it's amazing. He introduced disruptive innovations in all the industries he worked in.