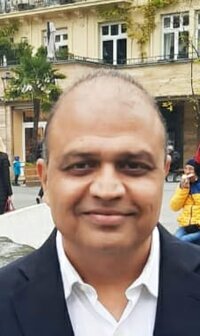 Sanjay
Agrawal
Board Director Asia-Pacific
Joining the board in 2019 Sanjay Agrawal takes on responsibility for the Asia Pac region. He succeeds Brian Salisbury in this role. Sanjay was re-elected for this role in 2021.
Sanjay's insurance journey began right out of college when he was recruited to New India Assurance due to his results in an All India written exam. He eventually became responsible not only for major corporate clients, he also created new markets for the company while also increasing market penetration in existing ones.
After 14 years, Sanjay joined IFFCO TOKIO General Insurance setting up their operations in South Gujarat. He took this branch from being a newbie to one of the top 3 branches of ITGI in India by not only venturing into new markets and concentrating on sales but by focusing equally on implementing training courses for his marketing team both new and experienced.
Sanjay eventually joined Bajaj Allianz General Insurance Co. Ltd. where he increased sales by conceptualizing, designing and introducing various new retail lines as well as recruiting and training a team of front line executives.
In 2005, ready for a new challenge, he left his high paying corporate job to start his own company with a partner: that's when Beacon Insurance Brokers Pvt. Ltd. was born.
In a span of 14 years, the company has grown from a team of 5 to a company of 250 employees who work in 7 branches across the country. His flair for marketing and knack for venturing into new markets as well as developing techniques for increased market penetration helped Beacon a lot when the company setup a reinsurance division in the year of 2012. Since then, he has played a very active role and Beacon currently develops business in territories like SAARC, ASEAN, Middle East, Africa and CIS countries.
Sanjay is a fellow member of Insurance Institute of India.
Sanjay lives in India with his family which includes his wife, who herself is an entrepreneur, and their two kids. A self-professed workaholic who loves building businesses, Sanjay loves to spend his free time with his family. He also loves listening to music and reading positive mental attitude books.