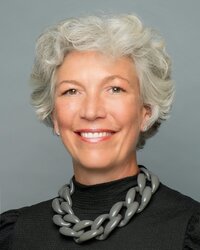 Brooke
Hunter
Board Director North America
Brooke Hunter joined UNIBA Partners' board of directors in 2021 October.
Brooke is the President of HUNTERS International Insurance, an insurance brokerage based in Toronto. She founded HUNTERS in 2005 having built sophisticated risk management and insurance experience working in Vancouver, Hong Kong, Sydney, and running a large Toronto insurance brokerage. Brooke has personal hands-on experience at the boardroom table resolving claims, crises and distressed business insurance situations.
She is active on multiple community boards, Brooke currently serves on the board of the Insurance Brokers of Toronto Region and has served on the boards of the Insurance Brokers Association of Canada, Toronto Insurance Conference, Canadian Association of Family Enterprise, St Clement's School, The Canadian Mothercraft Society and two private clubs. Brooke is a supporter of the charity Trails Youth Initiatives on their Board of Governors.
Brooke completed the University of Toronto Rotman Director Education Program in June 2016 receiving her ICD.D designation from the Institute of Corporate Directors. She completed the Wharton/Chubb CAPI designation, Certified Advisor in Personal Insurance, in November 2016. Brooke has been a member of the global Women Presidents Organization since 2018. In 2020 Brooke and her firm were invited to be Best Practices members of the Canadian Broker Network and to be an executive member and mentor within the ISC Group, a global community for women in insurance. She is President and Director of Huntro Investments, a family office and also serves as a Director of Morrison Lamothe Inc.
On a personal note, Brooke plays competitive tennis doubles and lives happily with her fiancé Andrew Spence, his three children, her two daughters, three cats and a corgi.