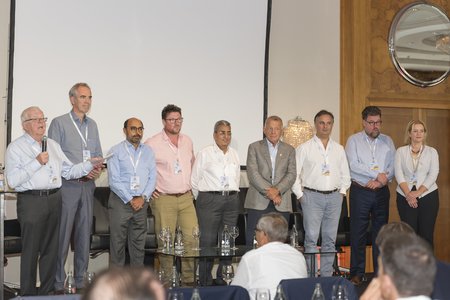 2017 was an election year for UNiBA Partners and, due to our three-term limit we had to say "Goodbye" to:
- Christian Hörtkorn, Finance & Legal
- Heinz Erdin, Director for Europe
- Ricardo Izzo, Director for Latin America
On the happy side, we welcomed two new Directors:
- Juan Carlos Duhne from EIKOS, Mexico, was elected to the board as director for our Latin American development.
- David Thomson succeeds Alan Sutton and Kevin MacEvoy as the third director from Sutton Winson to serve on UNiBA Partners' board. He takes on the role of Treasurer & Legal.
Moreover, the board's new President is our longstanding Australian partner and globetrotting Alan Sutton Award winner Brian Salisbury.
UNiBA Partners' 2017-2019 Board of Directors

David Walsh – Chairman
Geert-Jan Brouwer – Employee Benefits
Juan Carlos Duhne – Latin America
David Thomson – Treasurer & Legal
Rajiv Mathur – Africa & Middle East
Brian Salisbury – Asia Pacific, President
James Kalbassi – North America
Pierrot Gieres – Europe
Mareen Hüffmeier – CEO