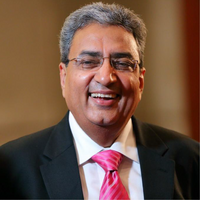 Rajiv
Mathur
Chairman
Rajiv Mathur becomes UNIBA Partners Chairman of the Board from January 1st, 2023. Rajiv is a lawyer by profession and has been active in insurance since 1977, playing key roles in general and re-insurance in different countries.

Initially, Rajiv joined GIC Re and from there moved to New India Assurance – the Indian market leader in the non-life segment. His career includes roles as Regional Head for New India operations for the state of Bihar and Karnataka in Bangalore before moving out of the country to become Director of Prestige Assurance in Lagos, Nigeria from 1987 to 1993. After leaving New India in 1998, Rajiv worked as CEO of Trident Insurance in Nairobi, Kenya from 1998 to 2005 and that of IOGA Insurance in Mauritius from 2006 to 2010. From 2010 until recently Rajiv has headed the reinsurance broking operations of Indian insurance broker Bharat Re.

Whilst in Kenya, Rajiv served on the Board of the Association of Kenya Insurers for five years and was also Chairman of the Marine & Aviation Committee of AKI. He also served as Chairman of the Indemnity Club in Kenya. In Mauritius, Rajiv served as an Executive Committee Member of the Insurance Institute of Mauritius and remained Editor of their Newsletter for two years. Currently, he is on the National Committee for Insurance & Pension of the Confederation of Indian Industry. Rajiv served on UNIBA Partners' board from 2013 to 2019 where his responsibilities related to both Asia Pacific and Africa and the Middle East.

He is married with two children. His wife Rhada is into Indian classical music and writes poetry. His children are married and settled in the USA.